Introduction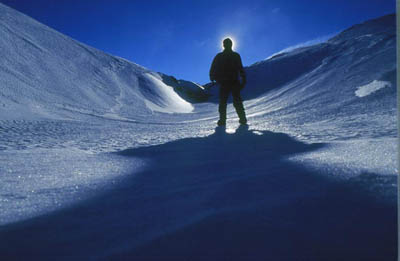 Welcome to Albedo Images.
Antarctica, the last place on Earth, is not famous for its cuisine. Yet it is famous for stories of heroic expeditions in which hunger was the one spice everyone carried. At the dawn of Antarctic cuisine, cooks improvised under inconceivable hardships, castaways ate seal blubber and penguin breasts while fantasizing about illustrious feasts, and men seeking the South Pole stretched their rations to the breaking point. Today, Antarctica's kitchens still wait for provisions at the far end of the planet's longest supply chain. Scientific research stations serve up cafeteria fare that often offers more sustenance than style. Jason C. Anthony, a veteran of eight seasons in the United States Antarctic Program, offers a rare workaday look at the importance of food in Antarctic history and culture.

Anthony's tour of Antarctic cuisine takes us from hoosh (a porridge of meat, fat, and melted snow, often thickened with crushed biscuit) and the scurvy-ridden expeditions of Shackleton and Scott through the 20th century to his own preplanned three hundred meals (plus snacks) for a two-person camp in the Transantarctic Mountains. The stories in

Hoosh

are linked by the ingenuity, good humor, and indifference to gruel that make Anthony's tale as entertaining as it is enlightening.
"Historical writing, well presented, is
supposed
to be delicious, but in this brilliant, insightful book you will find many essential nutrients that tend to be missing from standard treatments of Antarctic exploration. This is a delightfully balanced reflection on human involvement in the Last Place on Earth, from earliest times to the modern day, presented with much gusto and the added sauce of first-hand experience."
-
Ross MacPhee
(curator, American Museum of Natural History, and author of
Race to The End: Amundsen, Scott, and the Attainment of the South Pole
"Some years ago a friend who worked on a nature programme told me a tale of desperate penguin-killing (concluding with an ice pick) that left me with a fascination of how to feed yourself in the Antarctic. Jason Anthony's book has rekindled my appetite for Antarctic gastronomic thoughts."
-
Fergus Henderson
, Chef and Co-Owner of St. JOHN, London, and author of
The Whole Beast: Nose to Tail Eating
"I went to sleep thinking of Antarctica, and eagerly anticipated returning to the ice over my morning coffee. Anthony is an exemplary translator, imparting a collection of otherworldly experiences to the rest of us in precise and deft, but no less astonishing, language and narrative technique. The concluding recipes, like so much of the book, carefully fuse the hilarious and the harrowing. In Hoosh, Anthony makes legends human and humans legendary, and stresses that the mundane, if airlifted to the ends of the world, is nothing short of heroic."
-
Matthew Frank
, author of
Barolo
"Anthony enlivens historical facts with a knack for choice anecdotes… A singular, engrossing take on a region that until now has been mostly documented from a scientific angle or romanticized by adventurers."
- Kirkus Reviews
***


For eight austral summers, between 1994 and 2004, I traveled the Ross Sea region of the Antarctic as a worker in the United States Antarctic Program. Mostly I lived on the coast, in the industrial, bureaucratic community of McMurdo Station, where up to 1200 people make up the largest population on the continent. Like most Antarctic residents, I am not a scientist; instead, my work recycling garbage, fueling aircraft, moving cargo and building airstrips helped maintain the American presence in Antarctica and created a community from which scientists could work.

As the years passed, I spent more time in remote field camps in the hinterlands of the Transantarctic Mountains, West Antarctica, and the East Antarctic ice cap. During all of this astonishing experience, I committed myself to a long, slow study of Antarctic geography and its implications. Off the ice, I have since 1994 researched Antarctic history, science, culture and politics.

Like all deserts, the Antarctic icescape is empty, otherworldly, and often unforgiving. Perhaps more than any other place on Earth, however, the ice continent challenges our perceptions of the physical world and thus of ourselves. The geography is so singular that our presence is inseparable from our imagination; there is little else to see on the ice but ourselves. Time and space become as ephemeral as the play of light across ice. Often the abstract beauty is so overwhelming that we simply look away. With both notebook and camera, however, I tried instead to attend in detail to the blankness that fills the eye.

Many of my writings are rooted in notebooks filled during my Antarctic summers, sometimes in a windblown tent, more often at the quiet end of a noisy McMurdo workday. Those notebooks tended toward a lyrical nonfiction, in a collection of narrative, descriptive, analytical and poetic fragments.

My voice is just one among the thousands of Antarctic workers (Navy and civilian) over the years that have, for the most part, not been heard in literature or the public discourse on all things Antarctic. (Many of them have more experience and better stories.) Although I write often on the popular themes of exploration history and contemporary scientific issues, my foundation in doing so is always my on-ice experience and my passion for Antarctic landscape.


***

An explanation: Albedo is the measure of how much radiating energy, e.g. sunlight, a surface reflects. Antarctica has the highest continental albedo on Earth; its near-perfect blue-whiteness reflects over 80% of the sun's energy. As a result, the sun scarcely warms the continent. The ice remains ice, remains itself, due in large part to its albedo. I have loosely translated this physical term for personal purposes because I am interested in Antarctica's capacity to give reflection to thought.

***

My recent essays are narrative, research-based discussions of contemporary issues. (See The Heartless Immensity, published in
VQR,
for an example.) Please contact me to discuss my work shown here or other work you would be interested in publishing.
Other projects I'm interested in publishing include: 1) a manuscript of lyrical nonfiction,
Albedo: Reflections from Antarctica
; 2) a large-format book that combines my Antarctic photographs and writing; 3) an historical anthology of solo experience of the ice, tentatively titled
Antarctica Solo
; and 4) a page-a-day calendar of remarkable quotations from Antarctic exploration. If interested in discussing these or other projects with me, please write to
jason@albedoimages.com
.